Geological formation
Geology and geography defines that the Ryukyu archipelago are the islands made up of 188 islands( 68 out of them inhabited) and 1300km in length and located between the Kyushu islands and Taiwan island. The Ryukyu archipelago is also grouped as Nansei islands, which are made up of 199 islands, including Daito islands and Senkaku islands. The Ryukyu Islands are constructed by Uruma fluctuation. "Uruma fluctuation" is the earth's crust movement that occurs along with the formation of the Ryukyu Islands. This Okinawan dialectic word "Uruma" gmeans the islands surrounded by coral. Since being formed by the Ryukyu limestone, the islands have repeated uplifting and sinking. The islands mainly settle down though.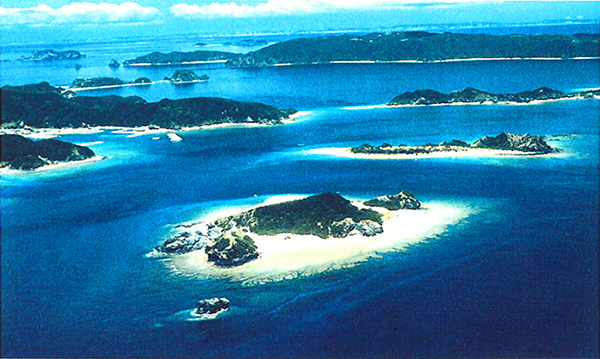 Kerama Islands



Kerama islands are the islands with deeply-indented coastline after several thousand year's bulging up or subsiding. Iotori Island, the far north island in the archipelago is the only volcanic island, the far south, Hateruma Island, the far west, Yonaguni Island, and the far east, Kita Daitou Island.
Being made up of 161 islands, Okinawa prefecture is divided into higher lands and lower ones. The higher lands were originally a part of Eurasia continent and separated by caving, and they have some mountains. The higher lands are Yaku Island, Tokara Islands, Amami Island, Tokunoshima Island, Kume Island, Tokashiki Island, Ishigaki Island, Iriomote Island. They have mountain ridges, valleys, and rivers. The lower islands, on the other hand, are bulging coral reef islands. They are formed by the Ryukyu limestone and have no mountains and have plateau- like shape. The lower islands are Tanegashima Island, Kikai Island, Okierabu Island, Yoron, Ie Island, Miyako islands Taketomi Island, and Hateruma islands. They have many veins and limestone caves. Mainland Okinawa is made up of the higher and lower island, the northern part, the higher land, and the southern part, the lower one.