Kuba Island
Kuba Island is in 3.8 kilometers southwest of Aka Is. It is 1.55 square kilometers in area, 270 meters above the sea level, and has about 6.8 kilometers around. Most area of this island is slope and covered with Kuba premival forest, which the name "Kuba Island." comes from. Utaki is deified at the top of this island and Himehabus live there. Divers gather around this island in season.
Kuba Island has a rough shoreline and sheer cliffs. It is known as a spot for big-gae fishing. Visitors can get here there by chartered boat.
Nature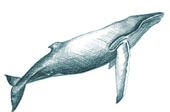 Whales
- articles about whales behavior, migrations and watching tips.
Plants
Insects